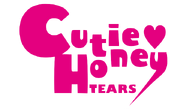 Cutie Honey -Tears- is a 2016 live action film in the Cutie Honey franchise. The film debuted in Japanese theaters on October 1, 2016.[1] [2]
In the near future, abnormal weather conditions and the spread of a virus has caused man's population to decrease. Artificial intelligence originally built to help and preserve what was left of humanity by controling the world's work and economy. In this bleak future, the rich and powerful dominate the world and live above the poor. The poor are suffering on the polluted streets with toxic rain pouring down upon them that is caused by the frivolous activities of the wealthy. One man from this area, Dr. Kisaragi, plans to change the world for the better by creating an android with A.I. and emotions indistinguishable from a human using the brain memory patterns of his deceased daughter Honey. The android Hitomi Kisaragi is brought down to lower areas at the cost of Dr. Kisaragi's life. On the surface, Honey pairs up with reporter Seiji Hayami and the resistance leader Kazuhito Uraki to fight against the oppressors of this world, controlled by the evil android Sister Jill.
Production
Edit
The film is directed by Asai Takeshi and will feature high quality CGI special effects produced by VFX Director Ryo Higuchi (Space Battleship Yamato film). Mariya Nishiuchi has been cast as Honey Kisaragi. Filming wrapped up in December of 2015, with the production wrapping up later in June of 2016. Nicole Ishida has been cast as Sister Jill, described as being the ruler of evil.[3]
Filming for the movie began on November 23, 2015.[4] As this was Mariya Nishiuchi's first action role, she spent a whole month training before filming.[5] Cutie Honey's battlesuit took a different approach compared to other incarnations, adopting a mainly black look to go along with the character's outlook and personality.[6] The shooting had ended on December 28, 2015.[7]
The movie's release date is the exact same day as Honey's first ever appearance in issue 41 of Weekly Shonen Champion 43 years ago in 1973.
External Links
Edit
References
Edit
Ad blocker interference detected!
Wikia is a free-to-use site that makes money from advertising. We have a modified experience for viewers using ad blockers

Wikia is not accessible if you've made further modifications. Remove the custom ad blocker rule(s) and the page will load as expected.