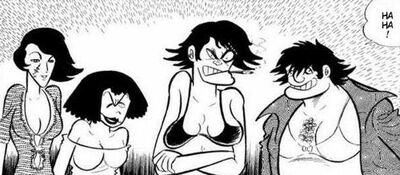 The
Sukeban
(Literally meaning all girl gang) were minor antagonists in the original
Cutey Honey Manga
.
The Sukeban were students of Saint Chapels Academy, they were an all girl gang of the ugliest girls in the academy. Angry that they had been ignored by the new popular girl in school Honey, they gang up on her roommate Natsuko Aki, strip her naked, tie her and gag her to Honey's bed. Honey comes in to find her initially thinking Panther Claw behind the attack but realizes that it was some students. The Sukeban announce themselves and force Honey to fight their strongest member Nanako.
Ad blocker interference detected!
Wikia is a free-to-use site that makes money from advertising. We have a modified experience for viewers using ad blockers

Wikia is not accessible if you've made further modifications. Remove the custom ad blocker rule(s) and the page will load as expected.